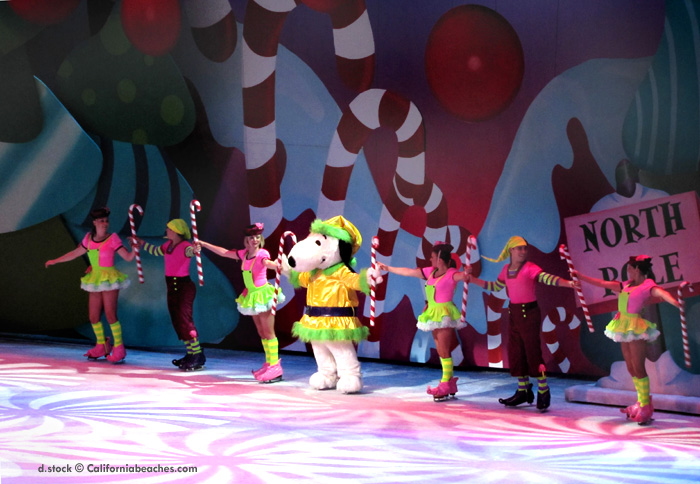 Knott's Berry Farm Snoopy's Christmas Ice Skating Show
8039 Beach Blvd., Buena Park, CA. Crafts Village entry is Free Mon-Fri; Park admission required Sat. & Sun.
Buena Park-- Knott's Berry Farm hosts an annual ice skating show involving Snoopy and an all-star cast of iceskating pros and Peanut's characters. Snoopy's Christmas on Ice shows are amazingly delightful for all ages. The level of talent and quality of the show will not disappoint.
Fast-paced and colorfully bright with holiday costumes in vibrant hues, the ice extravaganza keeps young and old at attention and never lets up. A holiday season spectacular that lends to the old-fashioned theme park themes such as the Crafters Village where you can purchase hand-made gifts, is an ideal holiday (and family tradition.)
Seating in the Charles M. Schulz Theatre is well sloped so that all seats offer undeterred views of the stage, which in some cases is fairly far away. But with the dynamic lighting and costumes, you don't miss a thing. People line up to see the popular holiday show and purchase glo-sticks and batons that they sway in the dark in tune to the music. An all-star Peanuts, Snoopy and the cast perform favorite holiday songs and themes with limited dialogue taken directly from the lines of cartoons. This is must-see entertainment for all ages.