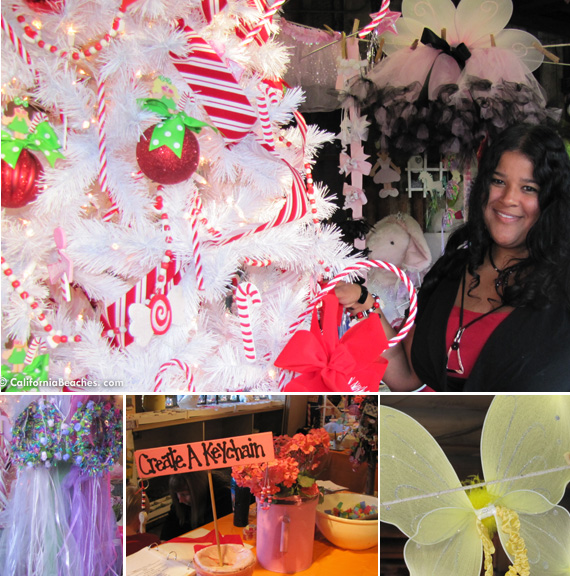 Psychology Grad Turned Craftsman Owns Knott's Berry Farm Store
By: Craig MacDonald
Buena Park, Calif.--One of the most interesting things at Knott's Berry Farm is just south of Sad Eye Joe, who's sitting in the Ghost Town Jail. It's incredible artwork, handcrafted by a UCLA-trained psychologist who has a God-given knack for design, carving, creating and even sewing things, such as, beautiful garden planks, featuring snowmen, Santas and other Holiday themes; Princess' tutus, fairy wings and so much more. Talented Maria Sims of Pasadena not only makes and sells her artwork year-round at Knotts but she also runs, with her mom, Edwina, the Kids Crafts Store, where excited children create their own jewelry. "My psychology training really helps me work with people," said the lady, who also has a sensational singing voice. "I want to make the World a happier place through the joy that art brings to folks."

Maria is so upbeat and friendly that customers enjoy their encounter with her and go away delighted they met her. Jason Smith, and his wife, Becky of Los Angeles, were so happy with the snowman garden plank they bought from Maria Tuesday that they returned to buy more of her crafts today. "It's so neat when you know the artist who actually created the piece you buy," Smith said. "Usually, you don't know who created it. But by watching Maria work and talking with her about the artwork, and why she does things the way she does, really gives it special meaning. I'm going to be getting other people's birthday presents from her because I like her positive attitude, and caring, creative crafts!"

Sad Eye Joe also glances from his cell at Maria's artwork. "Every time I pass the jail, he pleads with me to teach him how to carve," she said. "'Just loan me your knife and saw,' he keeps saying. But if I did, I don't think I'd ever see him again. He'd bust out of jail and head for the hills!"

Several other talented craftspeople like Maria also sell their wares at Knotts. Check them out. You'll be glad you did.