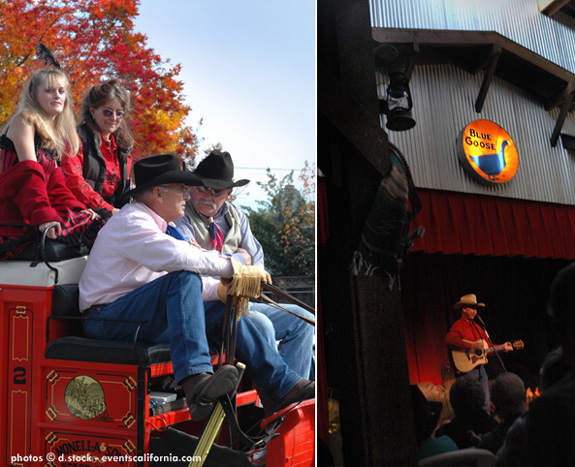 Cowpoke Fall Gathering in Loomis, CA
Blue Goose Fruit Shed, 3550 Taylor Rd., Loomis, CA. cowboy-poetry.com

Loomis, Calif.--Fall Gathering of Cowboy Poets celebrates the art of the spoken word. Cowboy poets present poems in fast-paced delivery which includes singing, yodeling, and some guitar strumming. Professional performers with original works and popular poems and songs passed down through generations provide comfort, surprise, and delight to audiences from the youngest kids to seniors coming from all walks of life.
The unique Cowboy Poetry Festival is held at the Blue Goose Fruit Shed, an historic building once serving as a fruit packing facility for the local produce industry that thrived in this Gold Country region east of Sacramento, California's capitol. The annual event is the largest fund-raising event to support renovation expense of the building and maintain its operations.
The former packing shed was built in 1945. Constructed by California Fruit Exchange at Taylor and King Roads in Loomis, peaches, plums and pears were brought in all summer from local farmers. The fruit was sorted, packed and shipped nationwide. Classic fruit packing labels framed on the walls tell the story of the past of this building set along the main street of Loomis, a small town in the foothills of the Sierra mountain range. The large barn-style building with corrugated steel treatments has become popular for events, weddings and corporate parties.
It is booked nearly all year long for special events and for rental meeting space in the town of Loomis. Waddie Mitchell, Sourdough Slim, Pat Richardson and many other poets as well as Ernie Sites carried on the western tradition of cowboy poetry, music and storytelling in Loomis at the

Supported by Poets & Writers, Inc. through a grant from the James Irvine Foundation, all proceeds are used on the Blue Goose Fruit Shed renovation. The all-volunteer Foundation (501c3 non-profit) is preserving the historic building and converting it to a vital community center. For more information about the South Placer Heritage Foundation and the Blue Goose Fruit Shed renovation, call (916) 787-0878 or go to www.soplacerheritage.org.

Headliner have included Waddie Mitchell who has performed internationally, appeared on television's The Tonight Show and Good Morning America, and has been featured in Life, National Geographic and the New York Times. His poem, That No Quit Attitude, commissioned by the 2002 Cultural Olympiad, appeared prominently during the Salt Lake 2002 Olympic Winter Games.

Sourdough Slim, a.k.a. Rick Crowder combines cowboy singing and yodeling, accompaniment on the accordion, guitar, ukulele and harmonica and a seasoned gift for connecting with audiences to tickle their funny bones. He was honored by the Academy of Western Artists with the 2001 Will Rogers award for Yodeler of the Year. Slim's success as an entertainer has brought national recognition with multiple invitations to perform at the most prestigious venues in North America, including Lincoln Center, Carnegie Hall, JHF Center and the National Cowboy Poetry Gathering. He has numerous CD's and tours the country performing at fairs, festivals and cowboy events.

Pat Richardson turned a lifetime of ranching and rodeo competition into award wining "cowboy poetry, true stories and outright lies" that entertain audiences internationally.
For more information about The Cowpoke Annual Fall Gathering of Cowboy poets and musicians, the South Placer Heritage Foundation and the Blue Goose Fruit Shed renovation, call (916) 787-0878 or go to www.soplacerheritage.org